THE HARLEM

PEOPLES

SURVIVAL

PROGRAM

(PSP)

WOMYNS HERITAGE MONTH 2013 FILM & DISCUSSION SERIES
CON

CLUDES

ON MONDAY, MARCH

25

TH WITH A FREE SCREENING OF GLORIA ROLONDO'S

:
E

Y

E

S
O

F
T
H
E
R
A
I
N
B
O
W

:
THE STORY OF ASSATA SHAKUR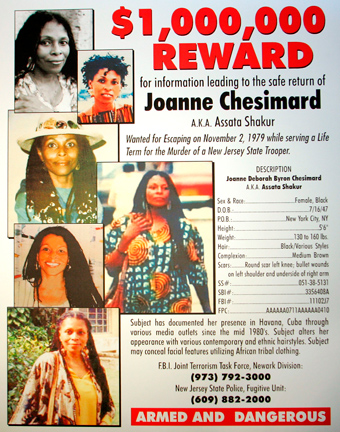 "Eyes of the Rainbow" deals with the life of Assata Shakur, the Black Panther and Black Liberation Army leader who escaped from prison and was given political asylum in Cuba, where she has lived for close to 15 years. In it we visit with Assata in Havana and she tells us about her history and her life in Cuba. This film is also about Assata's Afro-Cuban context, including the Yoruba Orisha Oya, goddess of the ancestors, of war, of the cemetery and of the rainbow. Gloria Rolando on "Eyes of the Rainbow": "In the struggle of the African American people, many women's voices in the past and the present have always called for social justice, women who throughout the years have shown integrity and firmness in their principles. For this reason, "The Eyes of the Rainbow" is dedicated to all women who struggle for a better world. One of those voices that already forms a part of the history of the African American people is that of Assata Shakur. In the documentary "The Eyes of the Rainbow," she recounts aspects of her path as relentless warrior. We are able to create a meeting with Assata Shakur through the symbols of AfroCuban culture, which offer us beautiful songs evoking the ancestors. Representations of the Yoruba warrior orishas such as Oya and Ochosi support the discourse of this story, which also has its moments of poetry and tenderness as in the dance of Oshun, through which is illustrated Assata's decision to become mother while still in prison. The blues interpreted by Junius Williams and his "Magic Harp," the songs of Sweet Honey in the Rocks, and the Cuban group "Vocal Baobab" give a special stamp to this valiant testimony which defines the spirit of struggle in the African American woman."
SEATS ARE LIMITED - DOORS OPEN AT 6:30PM - FILM SCREENING WILL BE FOLLOWED BY A DISCUSSION & FEEDBACK SESSION. PLEASE BE ON TIME WITH YOUR PHOTO I.D. AND A SMALL DONATION IS REQUESTED FOR FOOD & BEVERAGES. CLASSES ARE HELD AT THE ASSATA SHAKUR-GUILLERMO MORALES COMMUNITY & STUDENT CENTER @ CITY COLLEGE HARLEM CAMPUS ROOM 3-201 (NAC) BUILDING PHONE: (212) 650-5008 (USE THE AMSTERDAM AVENUE ENTRANCE @ W. 140TH STREET) WE HOPE TO SEE YOU ALL THERE & DVD COPIES FROM THE PAST FILM SERIES WILL ALSO BE AVAILABLE AS WELL! BRO. SHAKA SHAKUR, P.E. & CULTURE CLASS FACILITATOR THE PEOPLES SURVIVAL PROGRAM (PSP)
--
SIGN THE JERICHO COINTELPRO PETITION!
Free All Political Prisoners!
nycjericho@gmail.com
•
www.jerichony.org