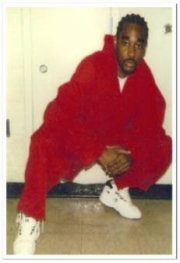 Medical Updates "January 21, 2012"
After 4 years Terrance was finally taken off of solitary confinement but his health continues to fail. Dr. Paula Smith—Chief of Medical Services is Dr. Clifford Curtis boss and can order him to send Mr. Taylor to a neurosurgeon for tests and seek treatments.
On 1-4-12 Dr. Clifford Curtis informed Terrance that he was going to order flexural and for the 3rd time Terrance was lied too; the doctor never ordered the medication.
Terrance was recently sent for lab work to check the status of his thyroids; without explaining the results to Terrance; Dr. Curtis increased his medication "Synthroid" from 100 mg to 112 mg. This medication is to be taken on an empty stomach and Dr. Curtis has instructed the nurse that passes out the medication to give Terrance the Synthroid after he eats.
What are the test results of Terrance thyroids and why has his medication increase? On different occasions Terrance was told that nothing was wrong; graves disease; something had grown inside of his thyroid glands that rendered it dead (proved on ultrasound) and now Terrance is being given Synthroid with an increase.
This is the result from Dr. Joseph Lightsey NOT treating Terrance properly. Answering questions DOES NOT involves treatments; passing out medication without seeing Terrance is NOT considered treating him plus that's UNLAWFUL.